Link:
---
New finding of booming dune in Colorado, USA
Recently, I get a mail from USA.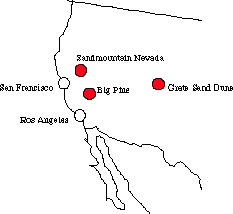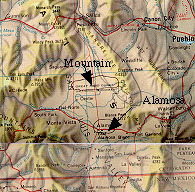 Hi Shigeo,
I came across your sight by accident but found it interesting. I am a science teacher during the school year and a park ranger at Great Sand Dunes National Monument during the summer. Visitors are often amazed by the squeaking sounds the sand sometimes makes when they run down the dunes. There is an old song by Bing Crosby called "The Singing Sands of Alamosa" which was inspired by the sound the sand makes. I have never encountered any other information on the phenomenon until I saw your site. Dirk Oden oden@amigo.net
Hi Shigeo,
Actually, the Great Sand Dunes National Monument is in Colorado. They are the tallest dunes in North America (a couple of other places, such as Eureka, also make that claim). As with the Eureka dunes, there are plants and insects found at Great Sand Dunes that are found nowhere else in the world. The home page for the Great Sand Dunes is: http://www.nps.gov/grsa/ You might find it interesting, although it is not as interesting as your site.
Regards, Dirk
Mr Dirk Oden
Thank you for youre mail. I certified the place of Great Sand Dunes National Monument in Colorado. Near Sangre de Cristo Mountains(37°30N,105°15W) and near to Denver. Is it correct? Only one researcher in USA is Professor Franco Nori of Michigan University(nori@umich.edu.). His paper on Scientific American,September 1997 is a world wide review of Booming sand. But on the paper, your booming sand dune was not contained. Possibly your dune is a new finding. I would like to upload on my site the fact, with your consent.
s.miwa
HI Shiqeo,
You may post any of my information on your site. I can understand most of what you write in English. I am sad to admit I speak only one language, although many people who live in the San Luis Valley (near Great Sand Dunes) speak both Spanish and English. I noticed a spelling error on your map - "Grate Sand Dune"(37.43N,105.36W) should be "Great Sand Dunes". I am eager to share your site with my fellow rangers this summer!
Mr.Dirk Oden
Thank you for your information, and your goodwill. I upload your information on my site. > I have a question in your description: old song by Bing Crosby called "The Singing Sands of Alamosa" which was inspired by the sound the sand makes. This is very interesting fact.
1. If you can tell me how old the song. About 19th or more old.
2. What mean Alamosa? It is a place name?
HI Shiqeo
 I will research the singing sands song. I suspect it was recorded between 1930 and 1950. "Alamosa" (37.22N,105.46W)is a Spanish word for cottonwood (a kind of tree). There are many cottonwoods in the area. Alamosa is also the name of the largest town in the San Luis Valley. The sand dunes are about 30 miles (50km) northeast of the town of Alamosa.
SINGING SANDS (From Scientific American magazine (January,1998)
As a youngster, I remember hearing a popular song that I thought was called "The Singing Sands of Alamosa." For many years, I asked people if they recalled the song or knew that sands "sing," as described in "Booming Sand," by Franco Nori, Paul Sholtz and Michael Bretz [September 1997]. Even my wife began to look doubtfully at me, as she had never heard the song or the sands. A bit of library research revealed that the song was in the score of the 1942 movie Always in My Heart, with music by Bert Reisfeld and lyrics by Kim Gannon. It was recorded by Alvino Rey, a singer of the 1940s. I wonder if any of them ever heard the sands sing. SIDNEY S. JACOBSON Chester, N.J.
It can be viewed at http://www.sciam.com/1998/0198issue/0198letters.html
View the Oden family web site at: http://shell.amigo.net/~oden/
Mon, 3 Apr 2000
Hi Shigeo,
I have enjoyed our correspondence! I am very interested in the frog-cloaking toy. Perhaps I could use it to demonstrate sand sounds when I am working at Great Sand Dunes this summer. Our visitors come from all over the world and would find the history of the toy interesting.
Hi Shigeo, May21,2000 (a Letter)
Thank you very much for sending the frog sand toys. They will be very useful this summer With the takks I wiIl give as a seasonal ranger. I begin working at the dunes next week. Enclosed is some information about Great Sand Dunes National Monument. I hope you find it interesting. I will send you a little book about "Great Sand Dunes" when I begin working there in June.
Sincerely , Dirk Oden
Great Sand Dunes National Monument